Anyun clung tightly to the warm, clean blanket her parents had carefully wrapped her in before looking cautiously up and into the eyes of a policeman.
The concerned officer had earlier discovered the terrified two-year-old, abandoned outside his station in China's Guangdong province.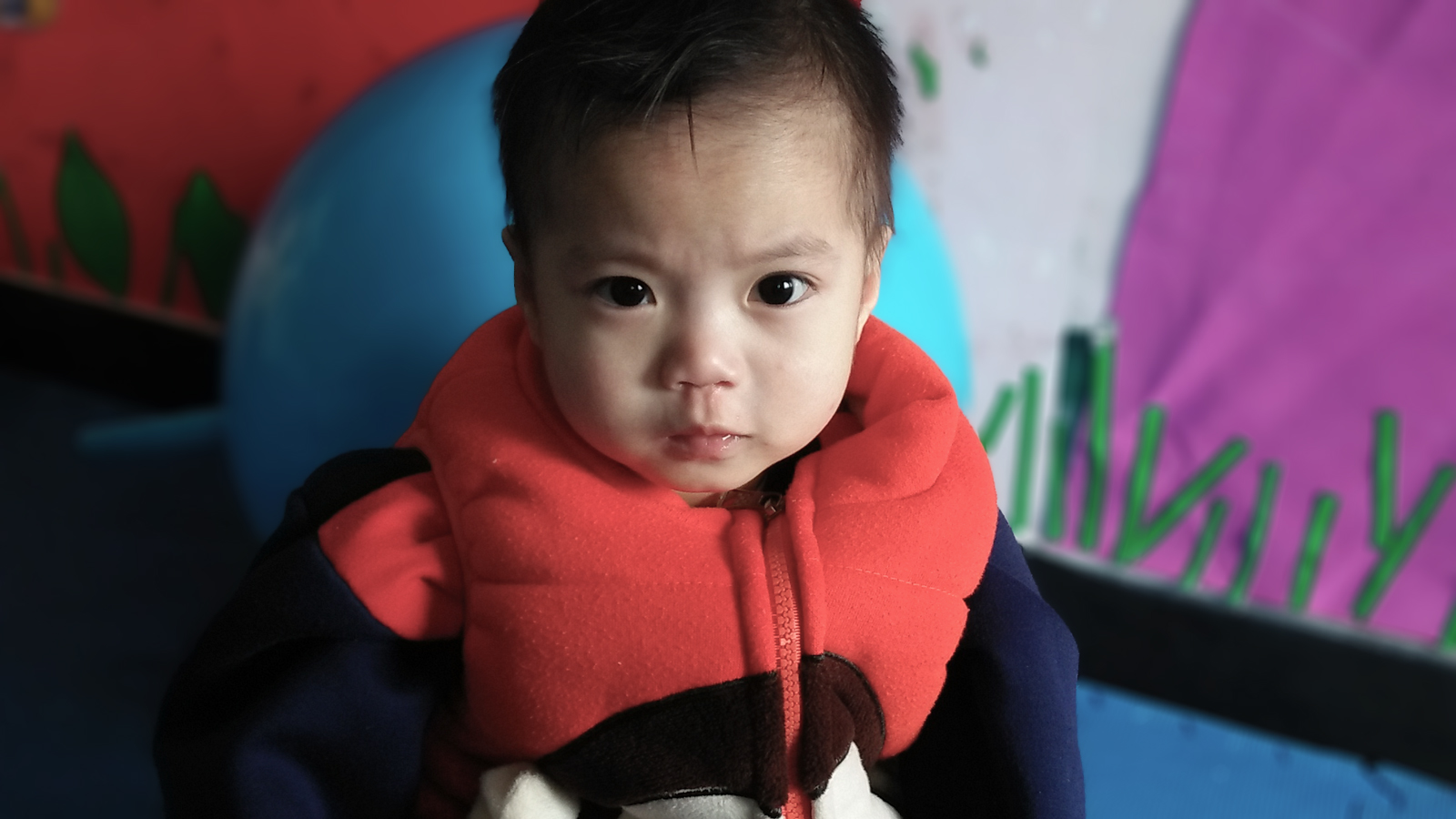 The policeman assumed the deserted little girl came from a poor rural village nearby. With the sad knowledge that she would likely never see her parents again, he took Anyun to a local orphanage. There she was assigned to a dedicated OneSky nanny named Li Xiamei.
Although already a toddler, Anyun was unable to speak, walk, or even stand up on her own. But when Xiamei reached out her hand to Anyun, the silent girl took hold of it. "I was surprised that such a beautiful girl had been abandoned. She was abandoned because she has cerebral palsy, I guess," says Xiamei.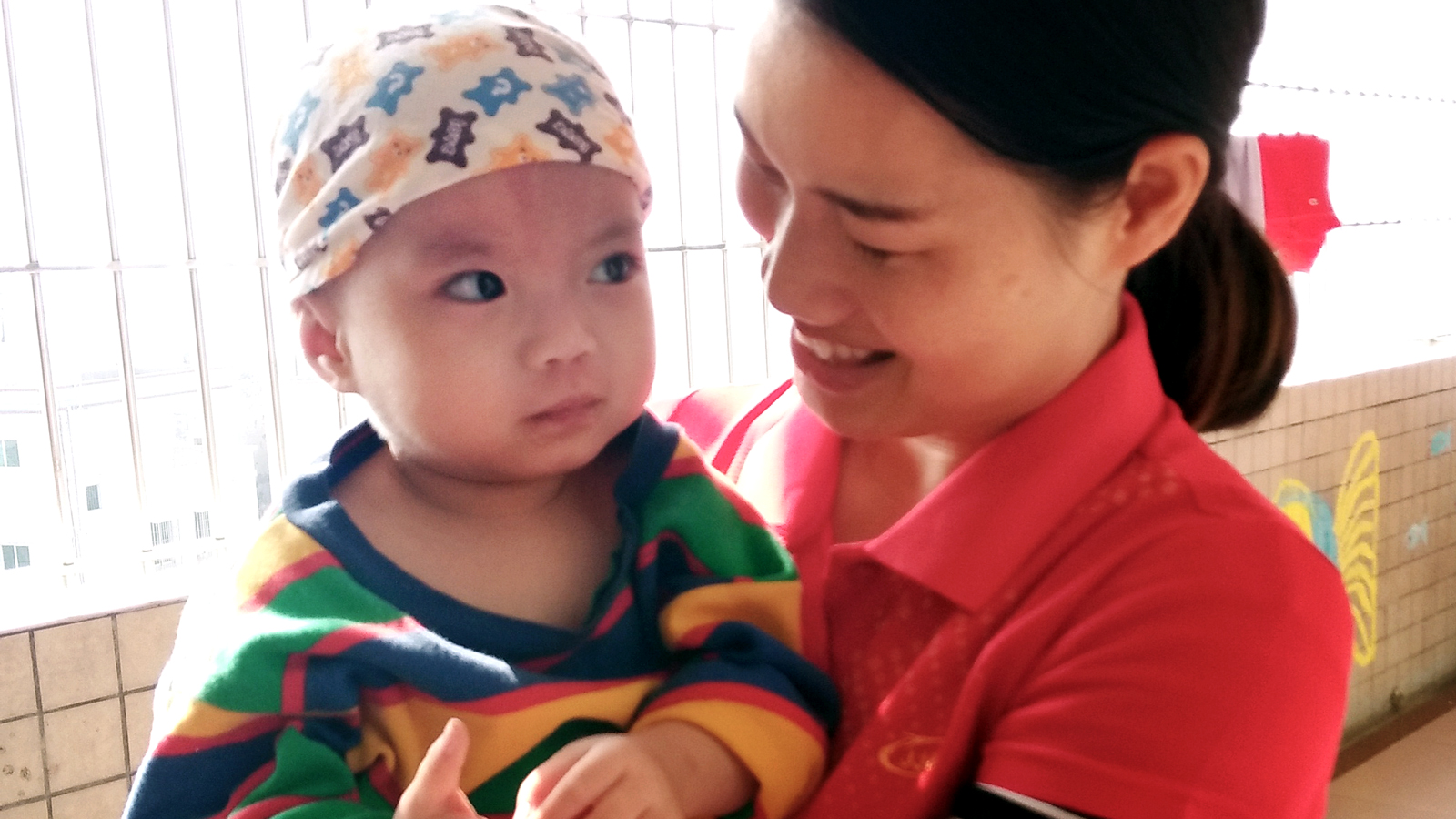 Yet, Anyun's story did not start the day she began her new life at the orphanage. Her story really began as a baby whose biological parents probably did the best they could, but were simply unable to care for Anyun. Sadly, Anyun's story is the story of some 95 percent of the children now living in China's welfare institutions, who  are suffering from issues such as cerebral palsy, heart defects, and other challenges that require expert care.
Most of the child, including Anyun, were likely abandoned not because their parents didn't love them, but because, due to lack of time and soaring medical costs, they were unable to provide the intensive care such children require. "I could tell that Anyun's biological parents loved her very much, because she was very clean when she was sent to the orphanage," says Xiamei.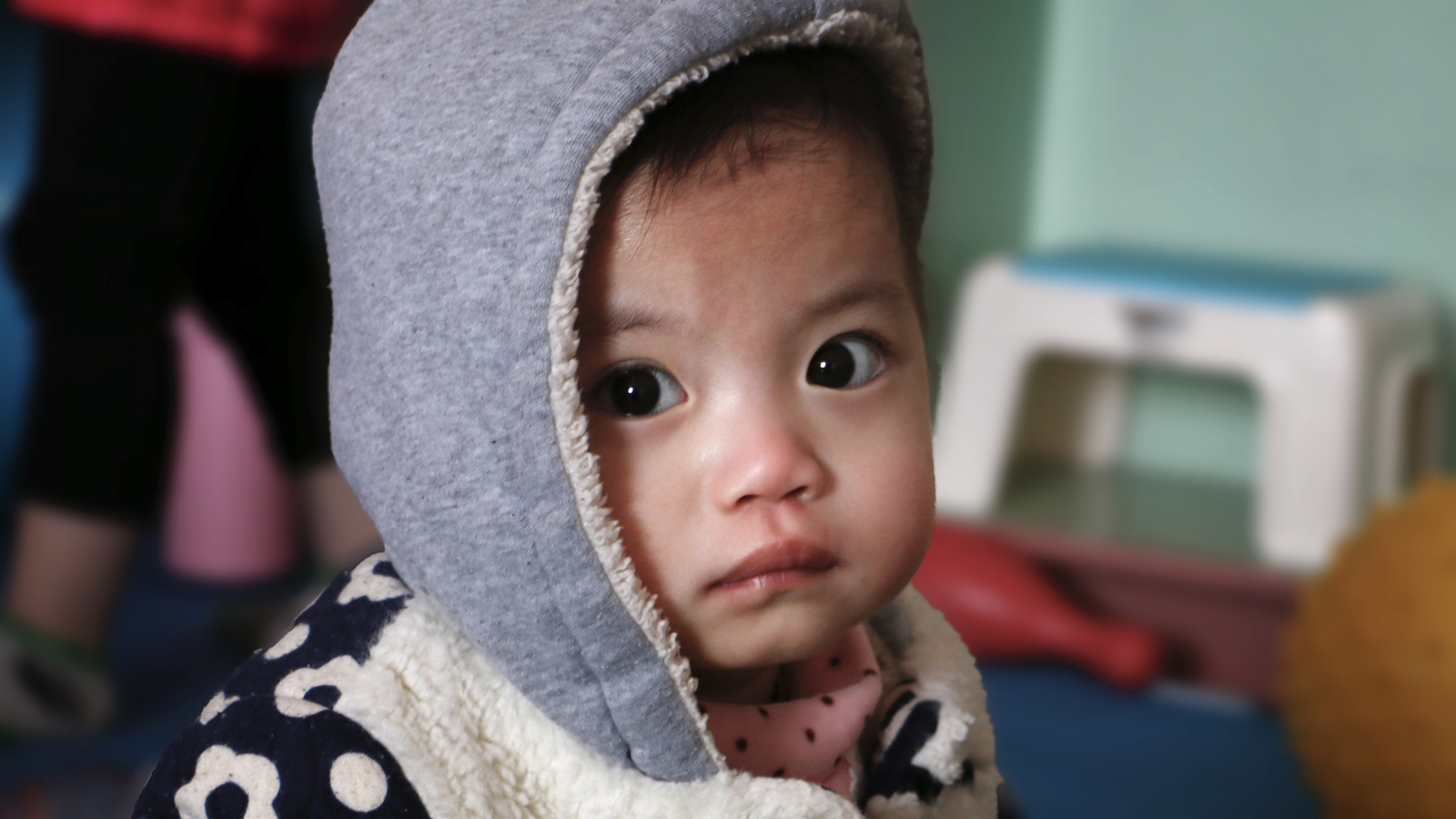 Still, as a toddler, Anyun could not have understood the reason behind her parent's painful decision. All she knew was that she felt very frightened and alone. When Anyun first arrived at the orphanage she refused not only to speak or attempt to stand, but also to eat or play with any toys. "She was looking at the world with her vacant eyes full of fear and mistrust," observed Xiamei, who began to care for Anyun the day after she arrived at the orphanage.
Fortunately for Anyun, Xiamei had been trained by OneSky's Special Education Department so she has the specific skills needed to work with children with special needs. From the moment Xiamei took charge of the distraught little girl, she began giving her individualized attention, physical therapy, and, perhaps most importantly, mega doses of tender loving care.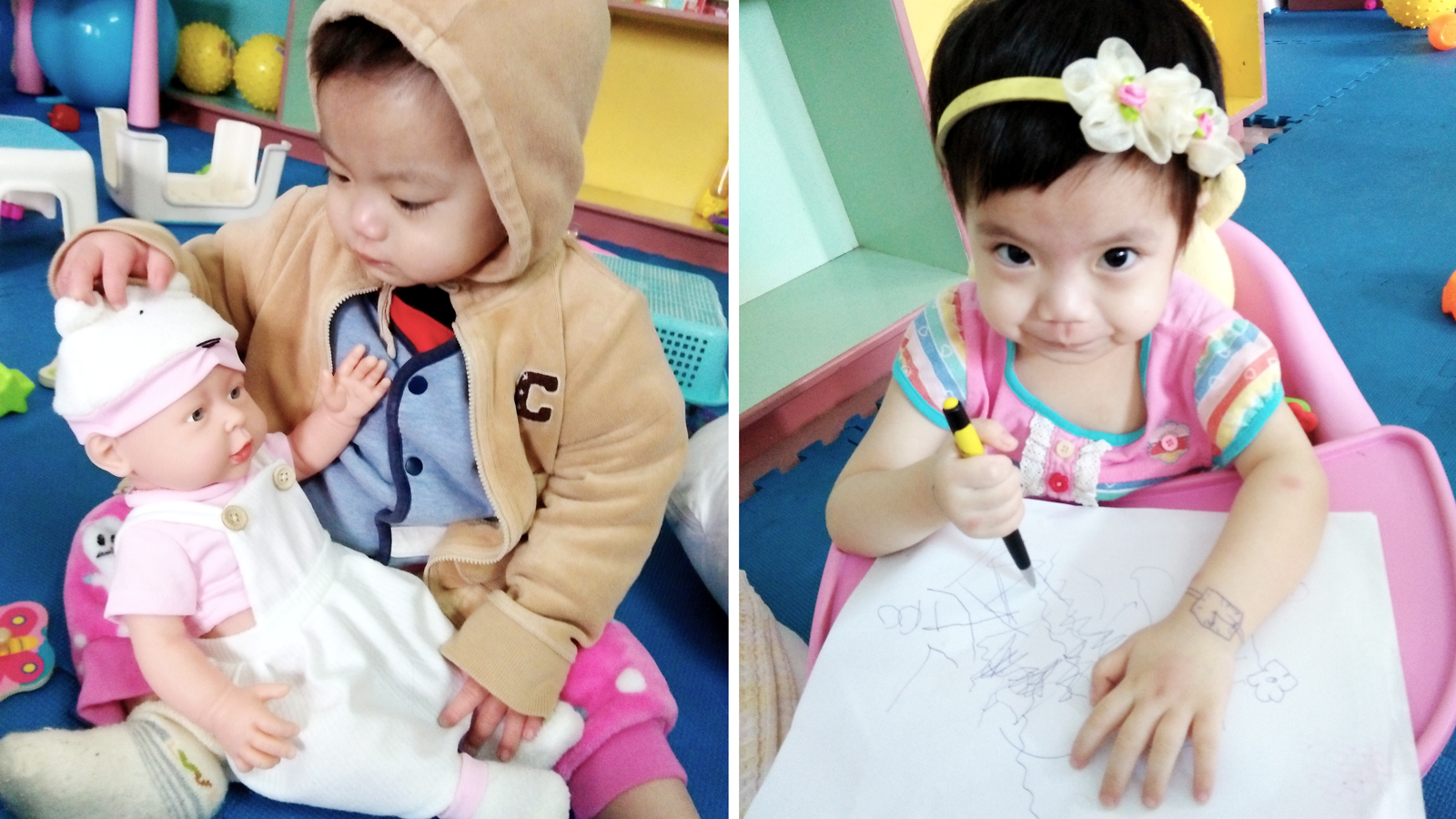 Xiamei sang soft lullabies to soothe Anyun and during meal time cheered whenever she ate something, no matter how little. After only a month, all of Xiamei's efforts on behalf of Anyun began to pay off when she started responding happily to Xiamei's daily kisses, cuddles and singing.
One day, Anyun began to show interest in the toys at the orphanage. Xiamei smiled when she saw this, because she knew Anyun had finally begun to explore freely in a safe environment. She even started to speak a bit, uttering some simple syllables such as "ah, ah" and "yi, yi." Teaching Anyun how to walk on her own, however, proved to be a much harder endeavor.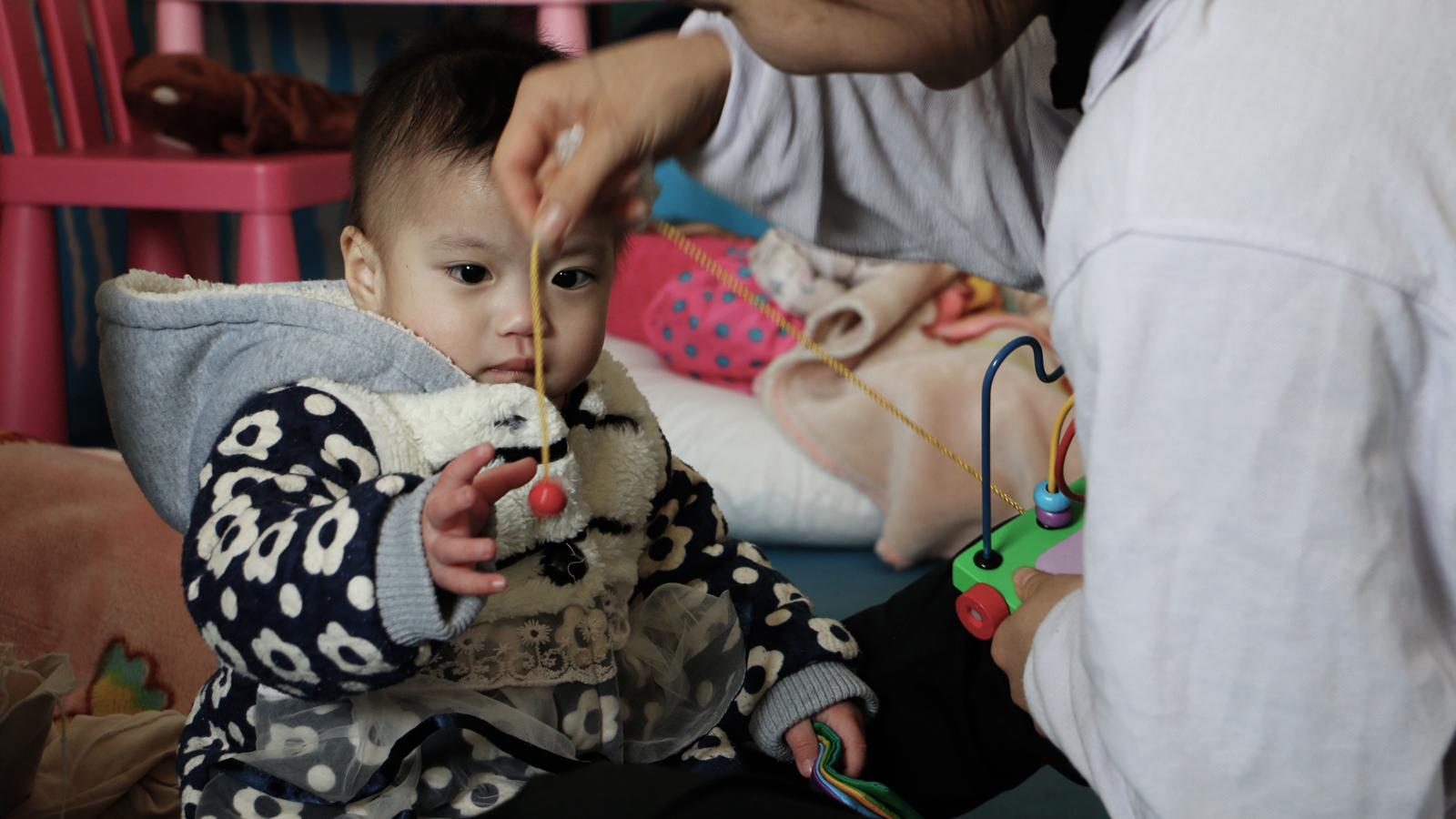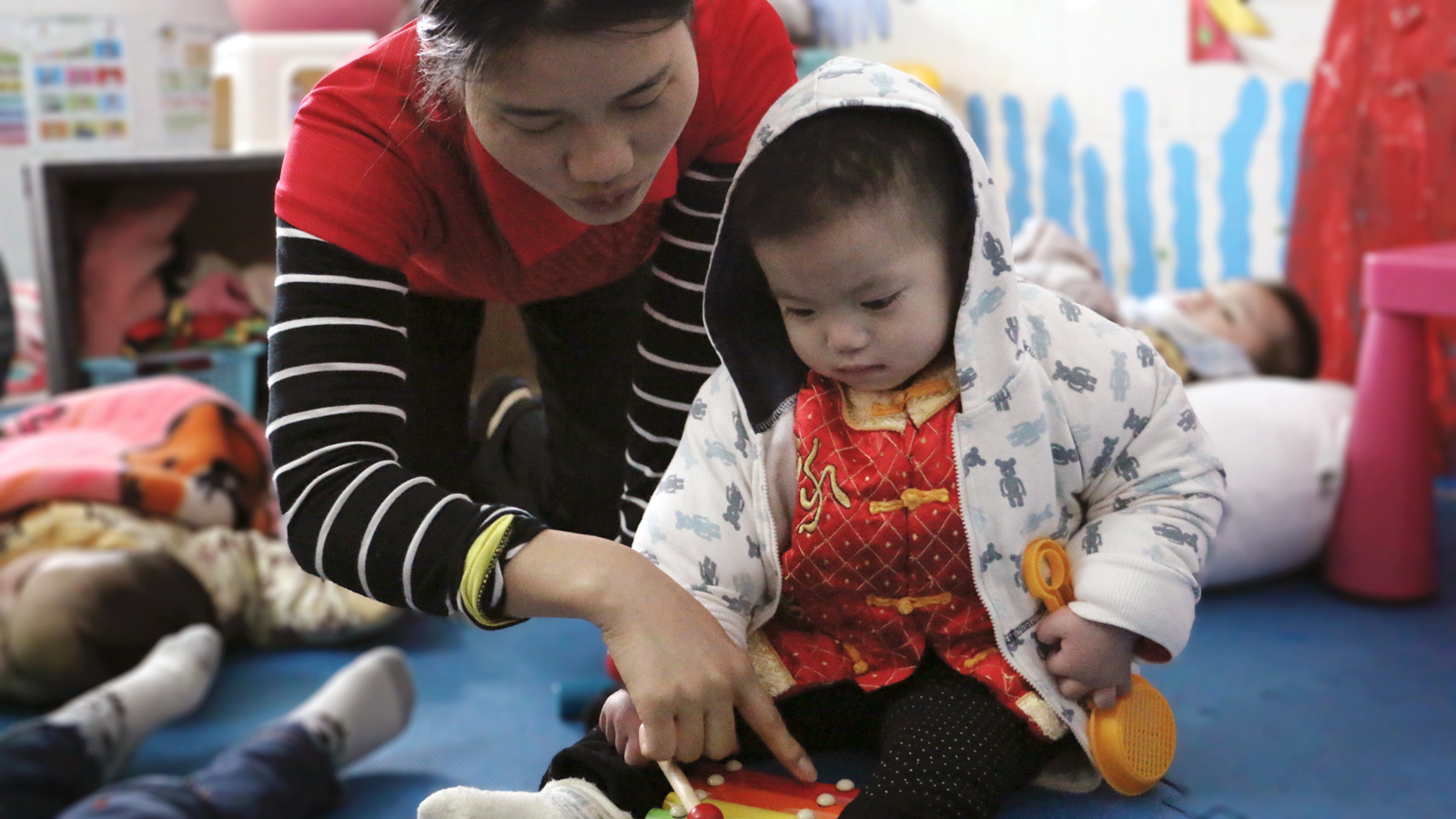 Xiamei massaged Anyun's legs for a couple of months: "I was trained to do massage for children with cerebral palsy, and I did it for Anyun every day," says Xiamei. Then, holding on to Anyun's hands, Xiamei would help pull her to a standing position, hoping she would eventually try to stand on her own.
But Anyun was resistant — she refused to straighten out her legs. Still, Xiamei patiently persisted, and, after many more training sessions, Anyun was eventually able to stand up on her own!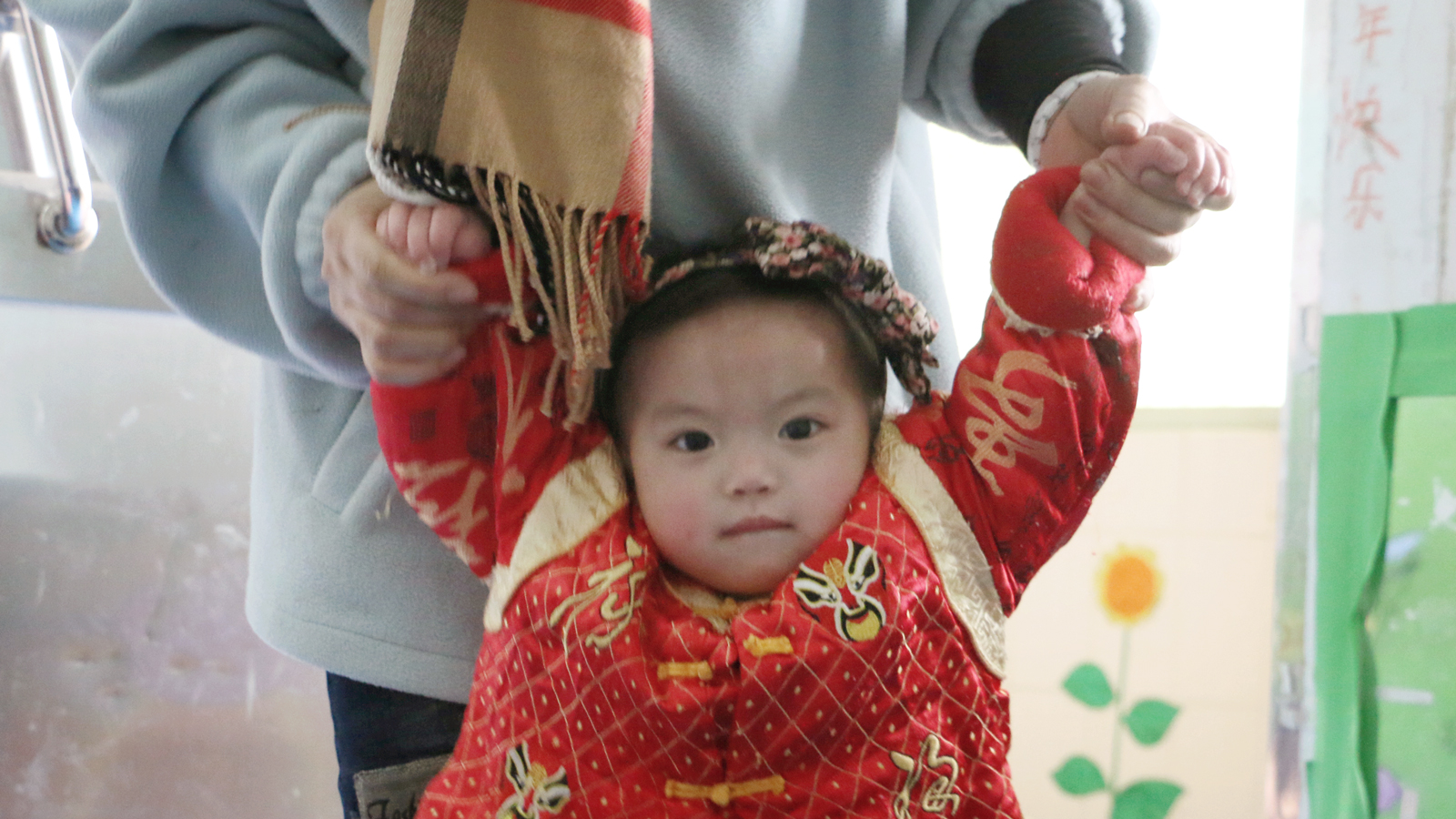 "I was really taken aback, opening my mouth in amazement for a couple of seconds," said Xiamei of that remarkable moment for Anyun. "All of the nannies in the playroom applauded for her."
Today, just one year later, Anyun has begun to walk on her own and has grown into a smiling, good-natured three-year-old, who likes to play peek-a-boo and look at pictures on the wall with Xiamei. She has also become a much better eater, especially of congee (a thick rice porridge) served with meat. Sometimes, after Xiamei puts a hairpin in Anyun's hair, she will go to the mirror and look at herself, happily.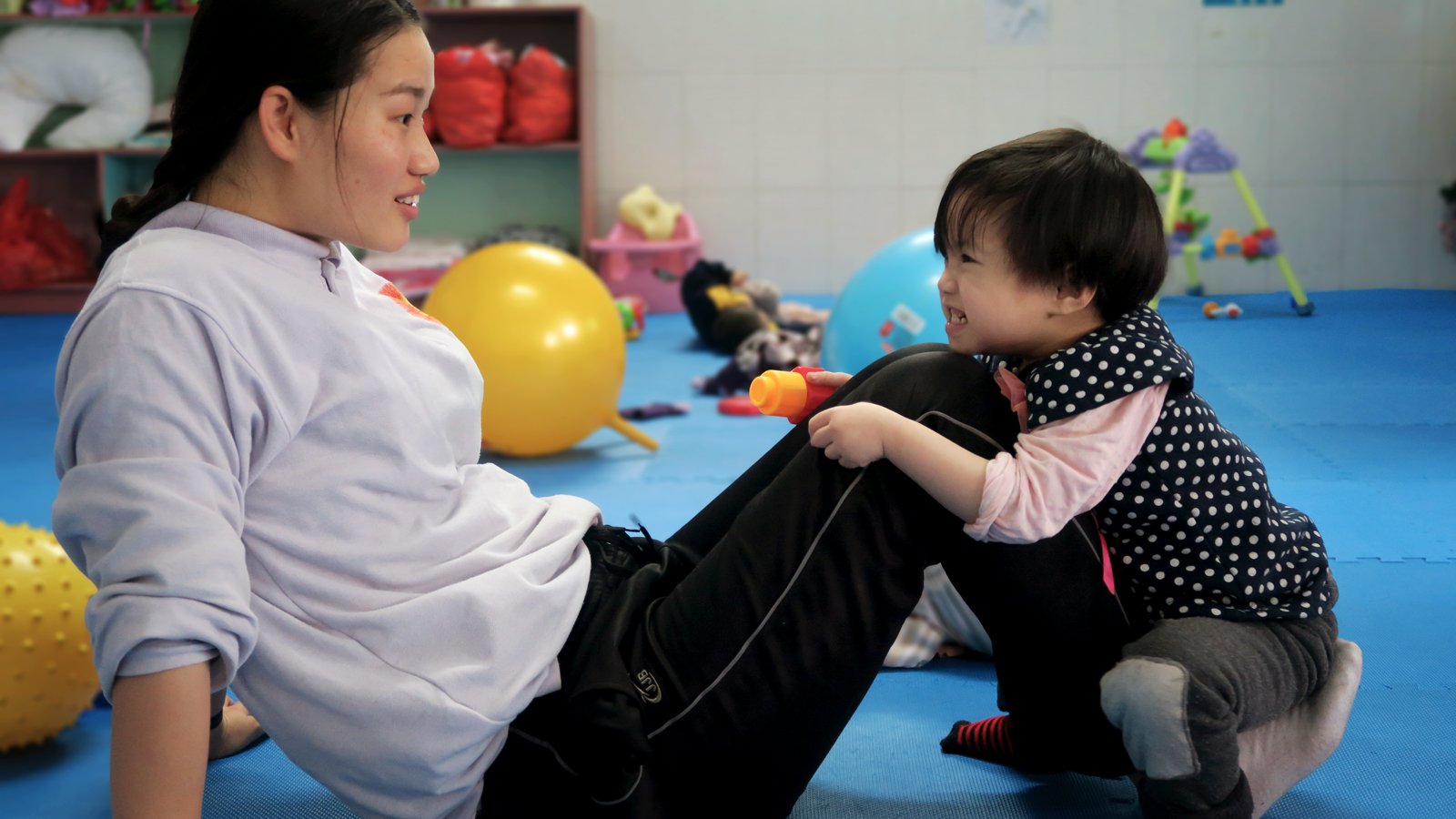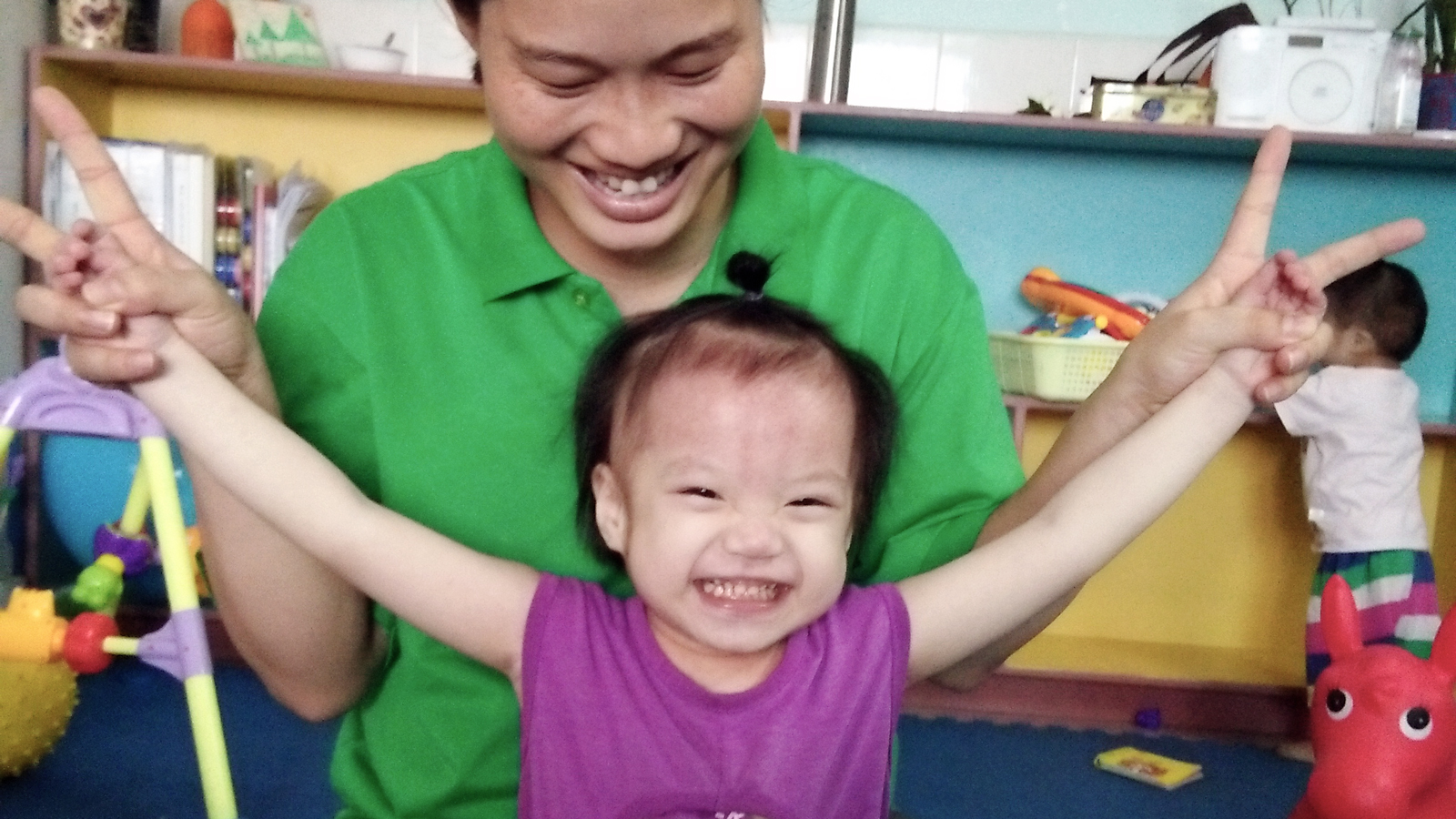 Everyone at the orphanage agrees that Anyun has come a very long way from the frightened little girl who arrived at the institution clinging tightly to her sole possession—a blanket from her parents. "Now she is able to walk and wander around. I'm glad she is able to enjoy the freedom that her feet bring her!" said Xiamei.
Anyun is one of many children being served in our orphanage model. Please see this update for the latest on our orphanage program.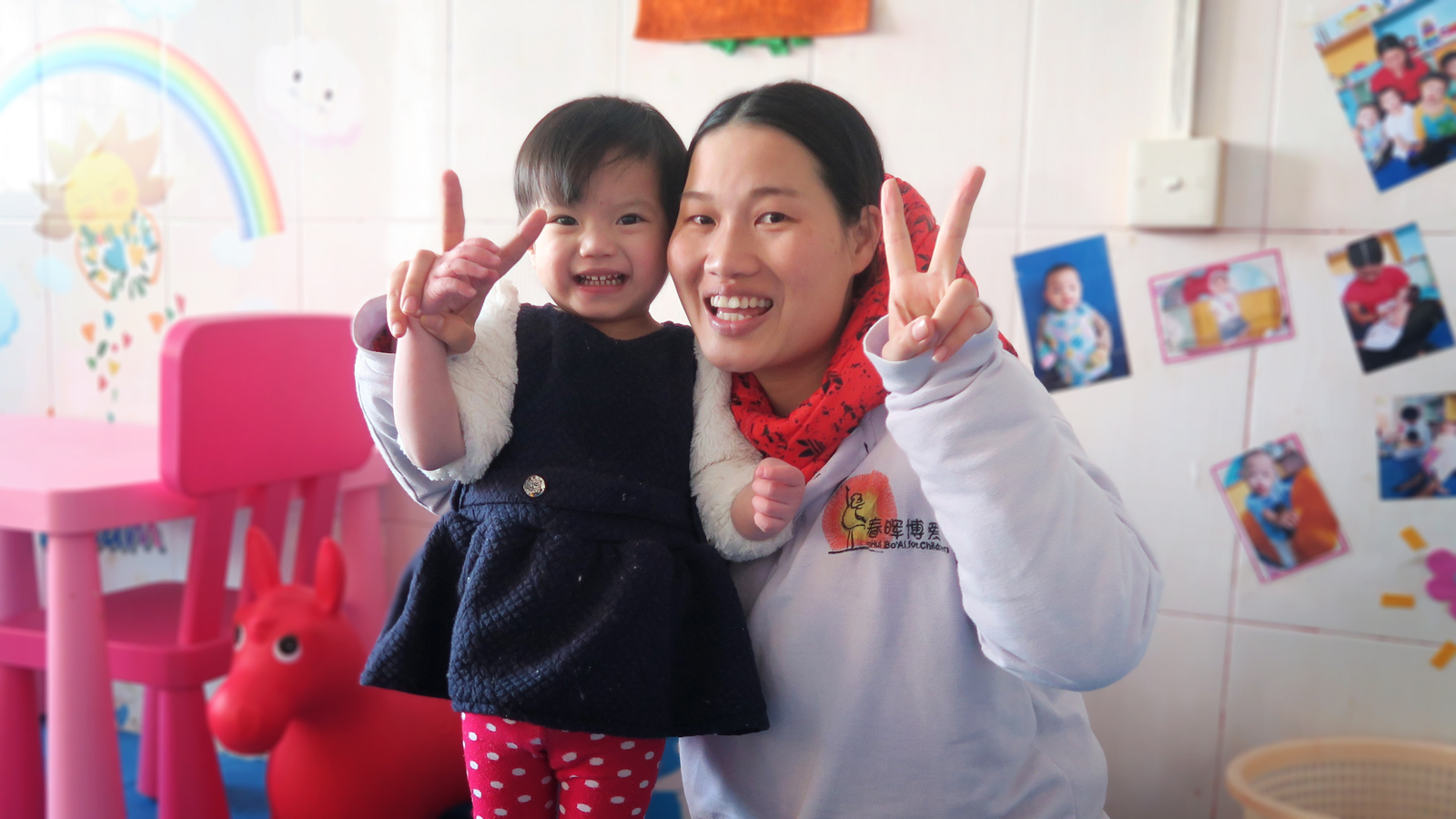 By Debbie Cohen and Karen Han
https://au.onesky.org/wp-content/uploads/2017/06/IMG_3739.jpg
900
1600
Debbie Cohen
https://au.onesky.org/wp-content/uploads/2018/07/onesky_logo_AUS-MEDIUM-web300-300x162.png
Debbie Cohen
2017-07-11 15:03:00
2018-06-25 00:01:13
Anyun, Abandoned but not Alone