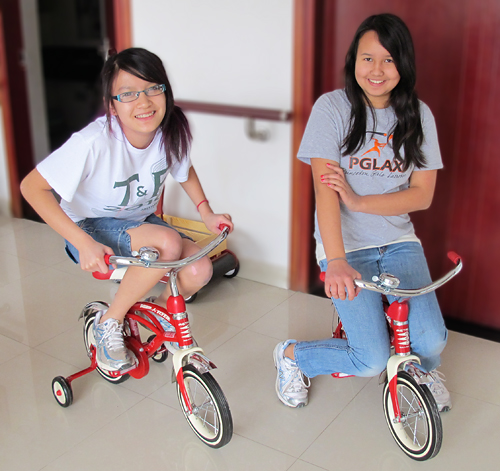 I think by helping out with Half the Sky, I'm going to have such a feeling of accomplishment. We've been working tirelessly for two days already, and I know I'm making a difference in these kids' lives. We've already done so much to help, and I cannot wait for another day of work! The walls have been painted with lovely colors, from all parts of the spectrum. From green to pink to blue to yellow, everything is colorful! We even built wagons and tricycles! I'm proud to say that I'm helping Half the Sky. It's going to change my life forever.
-Lily, 14, one of eight school children helping in Changsha
Our main work area is a large open-air classroom, but the small desks and chairs are stacked to one side at the moment. For the time being, the space has become something of a factory operation. Everyone is in high spirits, and hard at work.
In one corner, there's an entire fleet of shiny new tricycles and Radio Flyer wagons—freshly assembled and just waiting for riders. A couple of dedicated workers spend the morning tightening bolts and getting the last few vehicles ready for their tiny drivers.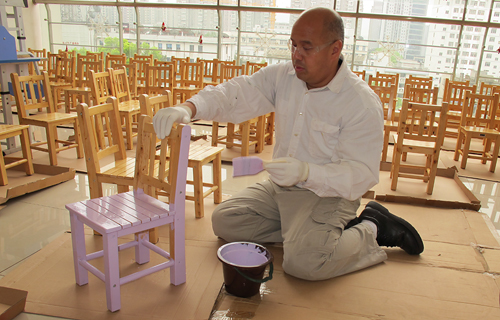 Since the vehicle assembly line is almost at an end, most of us are assigned to painting a knee-high forest of new preschool chairs and tables. The sticky enamel paint takes a few coats to set, so we rotate through several rounds of painting and sanding.
Between coats of paint, I briefly sit in on classroom training for caregivers for Half the Sky's Little Sisters programme. They are an energetic bunch, eager to put their lessons to practical use with kids from the facility. It's hard not to smile when the lesson ends and they get that chance; the children are immediately engaged, and the enthusiasm in the room proves quite infectious.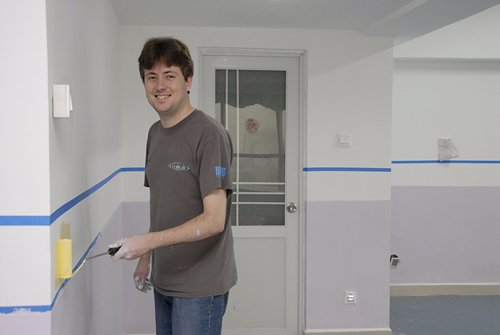 By mid-afternoon, our volunteer crew stands back to admire an impressive and colorful collection of chairs… but today's painting isn't done yet. The team moves into the bunk bedrooms and play rooms that line the hallways, which are taped off and awaiting their own coats of paint. Painters with rollers and brushes get to work, and before long these rooms have a lot more color on the walls.
Hard to believe, but the day has already run out and the bus is waiting to take us back to the hotel. The volunteers are all covered in a bright confetti of paint drippings, and everyone is quite ready for dinner and bed. We are resting our feet, now, and looking forward to what the rest of the week will bring.
-Charlie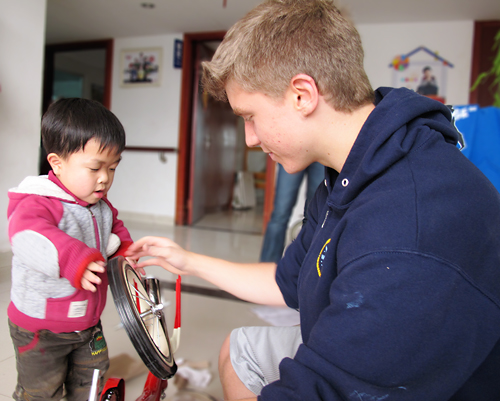 Today was a long day of painting chairs and walls, but the novelty of the bikes had not worn off yet for the kids, and whenever they had the chance they would say hi to us and ride their bikes until the nannies came to get them. There was one boy who always seemed to come over to us even when he wasn't supposed to. He was too small to get on the bike himself, but he would point to one and I lifted him onto it, and he drove just like a crazy city driver. He crashed into all the freshly painted chairs and into the walls with wet paint on them, and he thought it was hilarious.
A woman who trains Half the Sky nannies at the institution showed us a really interesting project they did at a different institution. They noticed that the blind children were often neglected when the kids were playing, so they did a project to try to change that and make the other kids include them more. They had the kids put on blindfolds to simulate being blind, and then try to walk around, and up and down stairs. They then talked about what it was like and all the kids said it was really scary. Then they paired some of the blind kids with the other kids and had them play a game where they would roll a ball to each other, and the non-blind kids were surprised at how hard it was. Then they lined up to go outside for their playtime and some of the kids started to help the blind kids line up and go outside. Out on the playground all of the kids started playing with the blind children, and helping them find their way around the playground. By the end of the project the kids had much more compassion for the blind children.
These are the kind of projects that Half the Sky is implementing in these institutions, projects that are making them much better places.
-Nat
https://au.onesky.org/wp-content/uploads/2019/03/1104_nat-thumb.jpg
280
498
Winnie Sun
https://au.onesky.org/wp-content/uploads/2018/07/onesky_logo_AUS-MEDIUM-web300-300x162.png
Winnie Sun
2011-04-12 02:33:53
2019-03-14 02:34:23
Day 2 – Spring Build at the Changsha Model Children's Centre