Lauren O' Hara  (Chief Development Officer) and I (Veronica Reich – Director of Communications) were delighted to travel to China again in 2016.  We were particularly excited to visit our two Seed Centres for the first time (Chandge and Xiangtain Children's Welfare Institutions), both located in Hunan Province, to see for ourselves how the children were responding to our Half the Sky programs and initiatives.  We were also very eager to return to our Model Centres in Hunan and Yunnan  – to re-unite with the devoted staff and to kiss and cuddle as many children as humanly possible.
Our schedule was a busy one, but we did not mind one little bit….
Day 1 – CHANGDE CHILDREN'S WELFARE INSTITUTION
HIGHLIGHTS: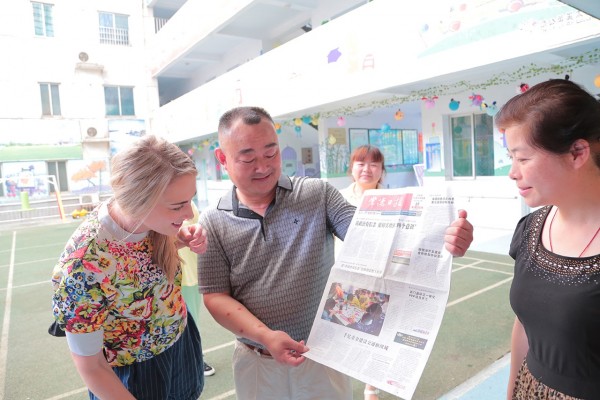 The highlight of this visit was chatting with the caregivers and learning more about the development plans they were creating and updating for each child in their care.
We were overwhelmed by the stories conveyed to us by Director, Mr. Xianyou Peng and his amazement with the heightened confidence and self-awareness of the children.
The classrooms were vibrant and well-organized. Shelves were stacked with appropriate books and play equipment and artwork and educational material were proudly displayed on class walls.
WHAT WE LEARNED:
We learned that Director Peng and his staff are committed to a robust exercise program for all children regardless of their physical and mental challenges.  Children participate in a daily 40 minute exercise/physio program with the result that children who were once confined to bed are now physically present in their classrooms and more able to participate in the class curriculum. We also learned through our discussions with the teachers and caregivers, that their own confidence levels are growing. They are more effectively interacting with the children thanks to their Half the Sky training and more willing to share their learning with each other for the benefit of their young charges.
XIANGTAIN CHILDREN'S WELFARE INSTITUTION
HIGHLIGHTS: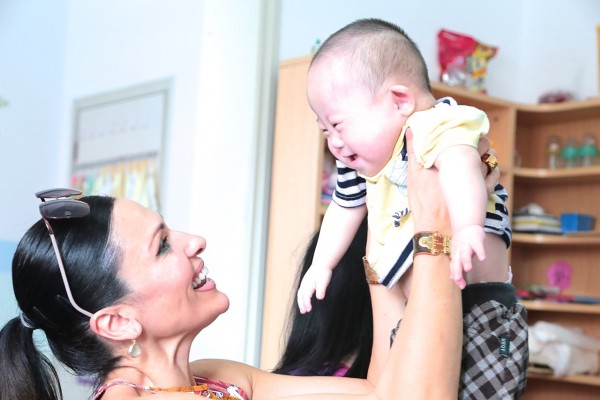 A highlight of this Seed Centre visit was Director, Mr. Li Tan's exciting 'reveal' that the Family Village Program is in its early stages. Director Tan shared that he is in the process of recruiting two couples to each take care of 4-5 special needs children whilst residing in specifically built accommodation on orphanage grounds. It was wonderful to witness a Seed Centre so zealously embracing our Half the Sky Program and to know that our Half the Sky staff are delicately guiding them through this significant process.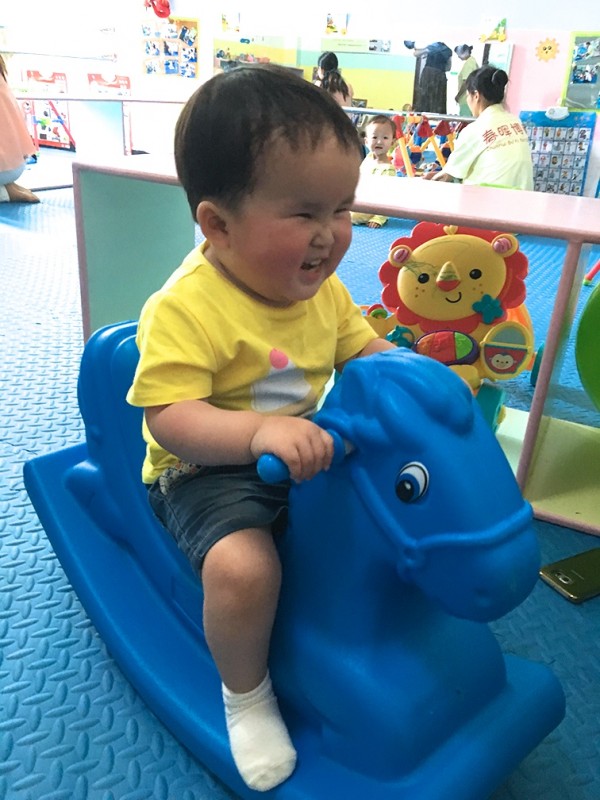 A huge highlight of our visit was spending time with the children.  We found them to be affectionate and curious with many of them referring to us as 'auntie' – what an absolute delight and honour that was! We also felt privileged to observe the children interacting with their caregivers and to witness so many tender and loving moments.
WHAT WE LEARNED:
We learned that Director Tan is very proud of the milestones children are reaching thanks to the impact of the Half the Sky programs.  He was pleased to report that even medical professionals have been astounded by the children's progress physically, emotionally and cognitively and this provides him with much energy and confidence for his daily duties and responsibilities.
Day 2 – CHANGSHA CHILDREN'S WELFARE CENTRE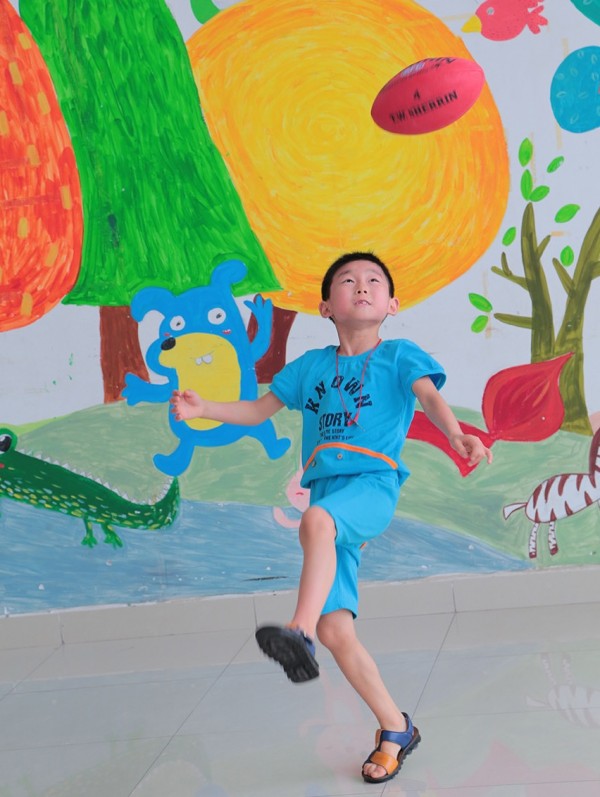 HIGHLIGHTS:
As expected, Director, Mr Huang Long greeted us with his usual positivity and gratitude. The fact that the children referred to him as 'pappa' and ran to his loving embrace just melted our hearts.
We loved returning to the classrooms and observing how the children listened to instruction and how wonderful their manners were. They were alert and enthusiastic and active class participants. We observed some amazing artwork being created, some happy times in the "dress-up" corner and some wonderful singing and dancing being rehearsed.
A spectacular highlight was joining the Changsha Institution for its China Children's Day celebrations.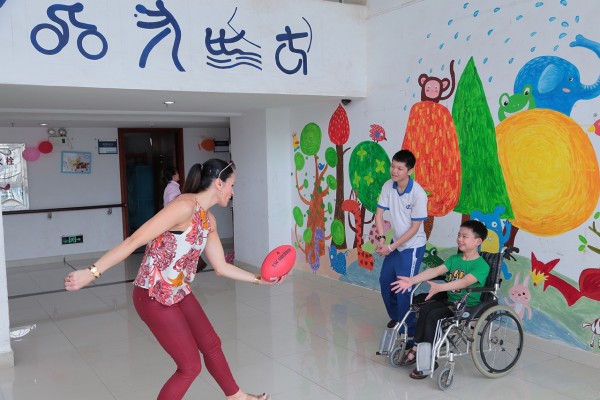 How incredibly privileged we were to join some of the Institution's orphans (as well as local children) on stage and to sing and dance with them. We look back on this occasion with particular fondness knowing that the Institution and the community celebrated as 'one' on this hugely special day.
WHAT WE LEARNED: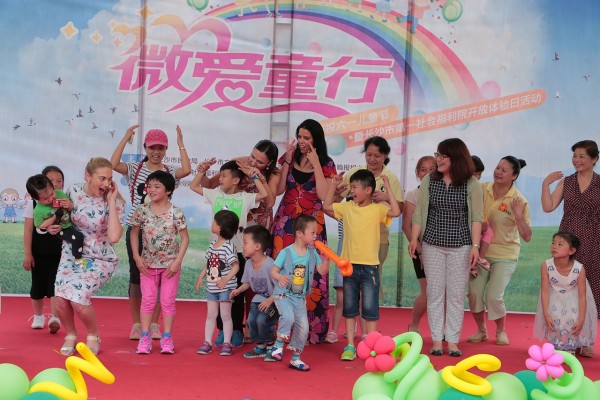 We learned that at almost 14 years of age (the cutoff is 14), it is still possible to be adopted. We spent time with a gentle and well–mannered almost 14 year old boy, who was soon to start a 'new life' with his permanent family. We thoroughly enjoyed introducing  'Australian Rules Football' to him and his peers – what an energetic and fun afternoon we all shared kicking and hand- balling the leather football we gifted the children!
Day 3: KUNMING CHILDREN'S WELFARE INSTITUTION
HIGHLIGHT: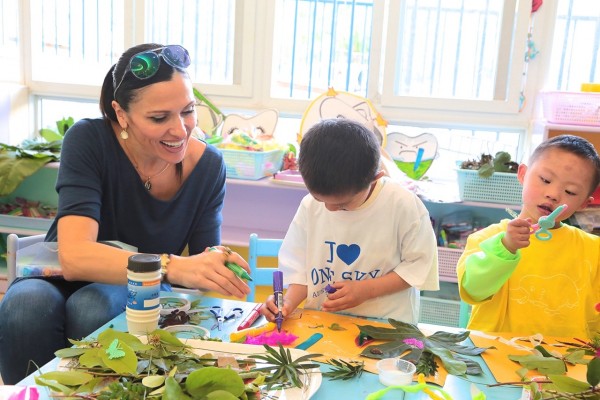 A highlight again this year was spending time with the children in their classrooms and seeing how brilliantly they were applying themselves to their work.  It was so heart-warming to see them so engrossed in their activities, so encouraged by their teachers and so willing to accept our affections and praise.
We loved spending time with the Foster Village mothers in their homes and hearing about their foster children's achievements and how fulfilled they felt thanks to Half the Sky. These mums (and dads) showed so much love and appreciation towards Half the Sky that we departed with tears of joy and gratitude. 
WHAT WE LEARNED?
We learned that it was possible for older children who still resided in the Institution to find part-time employment. We were fortunate to meet an older girl around 18 years of age, who was working part time at a local restaurant.  With her confidence and happy nature, we initially thought she was a member of staff. This beautiful young girl was friendly, communicative and proud of the relationships she had forged both inside and outside the Institution.  We hope that many children can look to her as a role model and find their way in this world, just as she has.
Lauren and I are deeply grateful to all the Half the Sky staff who made our trip so worthwhile, memorable and successful. We cannot thank them enough for sharing their time and experience with us both.
https://au.onesky.org/wp-content/uploads/2016/08/Final-thank-2.jpeg
337
600
Winnie Sun
https://au.onesky.org/wp-content/uploads/2018/07/onesky_logo_AUS-MEDIUM-web300-300x162.png
Winnie Sun
2016-08-25 21:55:26
2019-03-11 04:47:24
China Trip 2016