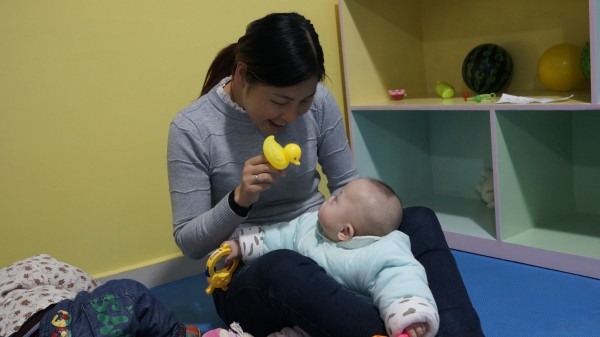 On December 7, 2015, thanks to the support of Half the Sky Australia, a team of 12 HTS staffers and trainers travelled to Hunan Province to launch a new Seed Center at the Changde SWI.
Over the course of 10 days, HTS staffers transformed the dreary rooms at the institution into more cheerful learning environments and trained the new team of infant, preschool, and special needs caregivers.
"It was clear that everyone at the institution was very motivated to get started and make change happen at Changde," said Hunan Child Development Expert Xiao Jin. "When our team arrived, the walls had already been painted and a carpenter had already built cupboards and shelves for the toys according to our standards! How wonderful!"
Infant Nurture Director and Trainer Li Daoxin noticed the same excitement. "Despite the frigid Hunan winter weather, we were very warmly greeted by all the new caregivers. Their energy was palpable. For example, during one of our first training sessions, when I asked a simple question like, 'Why does a baby cry,' everyone jumped in to participate:
"Because she wants to sleep!"
"Because she wants to drink milk!"
"Because she is trying to 'talk' to me!"
"Because she wants me to take her outside to see the trees!"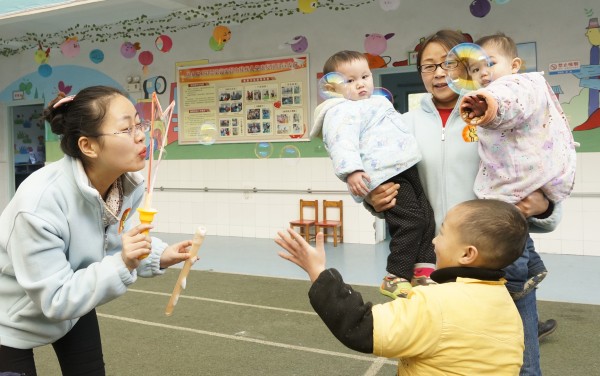 Chandge's new trainees are middle-aged women from the community who, though mostly illiterate, show great passion for providing nurturing, responsive childcare, like 30-year old Aihua, who was hired to work with the infants at Changde.
"I have been working as a salesperson in a shopping mall for 10 years but that never felt right to me. I'm comfortable with children. My mom used to work at the Changde SWI and now she is a foster mom for four children with special needs. I live with her so I help take care of them every day. They're like my children too."
Another trainee, Zhou, had been a Junior High School teacher. She confessed that it was exciting to be a student again.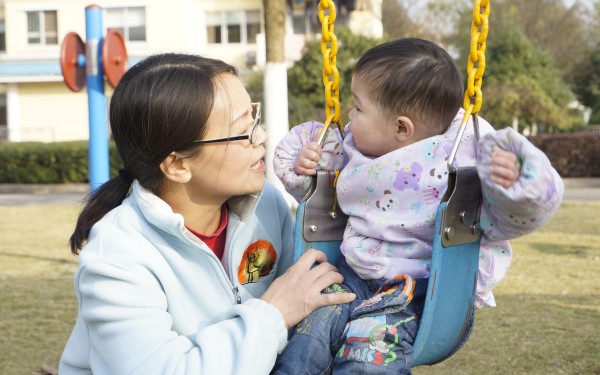 "I am learning a lot, including the importance of replacing negative language like the word 'don't' with more encouraging words. I couldn't wait to try this with my own 13–year-old son at home. He always wants to read novels and this has affected his school work. I usually scold him and tell him 'not' to read his novels but this time, I encouraged him to finish his work and then go read, and this was very effective. I wish I had received this training when my son was much younger," she said, smiling broadly.
As the training progressed, we also noticed changes in the children, for example with Fuxiao, a two-year-old boy. The first time we met him, like all children in the small room, he was sitting in a baby walker, with no toys of any kind to play with. The room was empty except for two beds that the caregivers used during their night shift.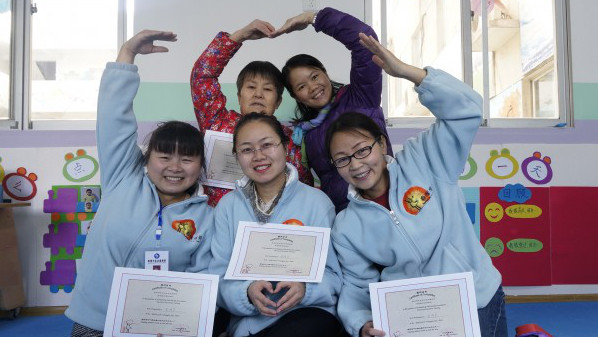 "When we looked in his eyes, he was like an empty shell, like something was separating his soul from his body," said his new nanny Yang, who used to be a physical therapist for special needs children. "I started interacting with him immediately. In the first two days, he never once made eye contact with me; in fact, he actively shunned my attention. I held him in my arms and sat him face-to-face with me as often as possible. On the third day, he looked at me for just a few seconds but that was enough for me to know that I was making a difference. I cheered!"
By the time our team left at the end of the 10-day training, we were confident that the seeds we had planted at Changde would keep growing because the children were now in loving, competent hands.
By Xiao Jin, Child Development Expert for Hunan Province
https://au.onesky.org/wp-content/uploads/2019/03/nannies-thumb.jpg
337
598
Winnie Sun
https://au.onesky.org/wp-content/uploads/2018/07/onesky_logo_AUS-MEDIUM-web300-300x162.png
Winnie Sun
2016-01-06 21:31:11
2019-03-12 21:37:26
Planting Seeds of Change in Changde