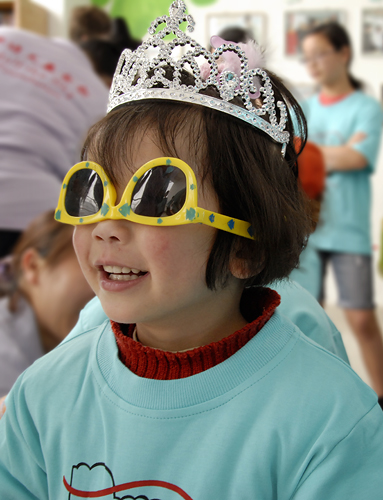 Friday, April 15 was a day of celebration with the children. When we arrived at the orphanage, it was as if Cinderella's Fairy Godmother had waved her magic wand and said the magic words; "Bibidi, bobidi, BOO"! The rooms were clean and all the toys had been put in their proper places. It was a sight to behold.
The young children entered their new magical play space and it was our "job" to play with them and introduce them to all of the wonderful things that were there for them. After helping them into dress-up clothes; tutus, bright beads, feather boas, sunglasses and Cinderella's glass slippers; the volunteers and the caregivers demonstrated how to use all of their new toys.
The infants had their own party with mats to roll on, activity gyms, soft blocks, rattles, pull-up bars in front of safety mirrors and lots of smiles, hugs and raspberries from the volunteers.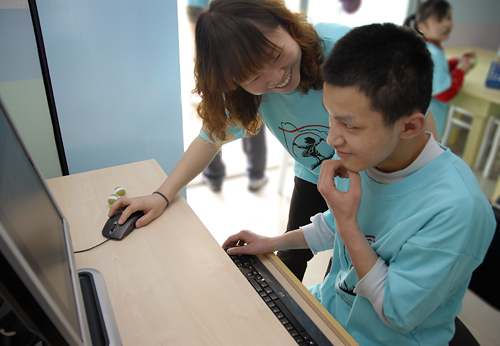 Not to be forgotten, the adolescent and teen residents were hanging in their new lounge on their IKEA couches, using their new computers and playing Twister. There was something for everyone, of every age group in the orphanage.
After our group picture, one of the other volunteers asked me if my heart was breaking. I told him it wasn't, because I was hopeful that the lives of these children would be better. A child living in an orphanage isn't optimal by any means, but that was what Half the Sky was created for – to positively impact the lives of those children who are in the orphanages and to help them have a happier and healthier childhood. I sincerely believe that we did that this week in Changsha SWI #1.
-Teri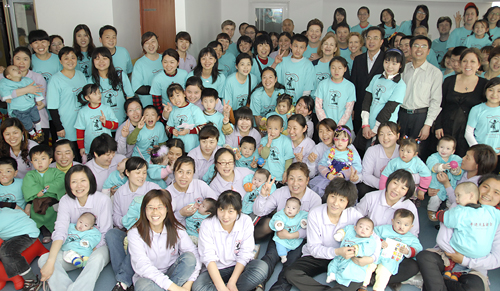 The first time I saw the boy with the burned face I was confused. He looked like a badly-drawn cartoon character. Seeing him across the playroom, his mottled skin could have been mistaken for the flesh-colored plastic of one of those infant dolls with blinking eyes. His own eyes were misshapen and in the wrong place – the right one was too low and to the side, the left one was just wrong. A shallow crater lay where his nose belonged, and his lips were too brief to cover the teeth in his mouth. He seemed to be no more than 5 or 6 years old.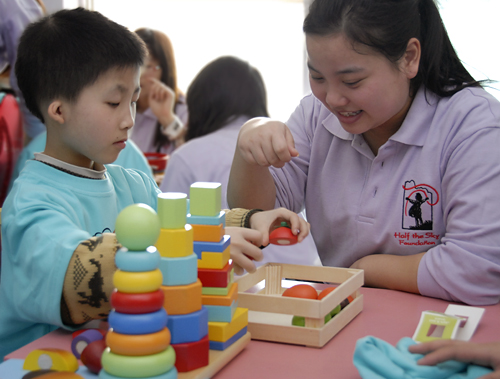 As I stared, I realized that his young face bore the scars from a past tragedy. One of my greatest personal fears is the horror of being burned beyond recognition, so the burned boy struck me more than the other children in the room. Was it an accident or intentional? How painful was it when it happened and what does he remember? Did his parents consider him perfect before it happened and then gave him up once he wasn't perfect, or were his injuries so severe that his parents had no choice but to put him in an orphanage so he could receive the care he needed? What will the rest of his life be?
Three months ago when I read about the Changsha build planned for April, it sounded like a good idea. After I learned that my 12-year-old daughter, Quincy, could participate with me, I decided the trip was a tremendous idea. Our work crew of 13 adults and eight teenagers and children were there to perform some manual labor, but the real opportunity was for us civilians to gain a glimpse inside a state welfare institution, which are normally closed to foreigners.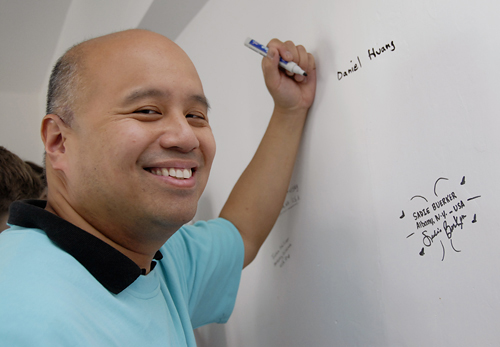 Our job was to paint rooms as well as build bicycles, wagons and other toys. By the final day, the Half the Sky rooms were painted in soft pastels and newly furnished. Toys, books and art supplies filled the shelves, and there was also a new computer workstation that was already in use. To celebrate our accomplishments, we threw a party. Several volunteers brought costumes for the children.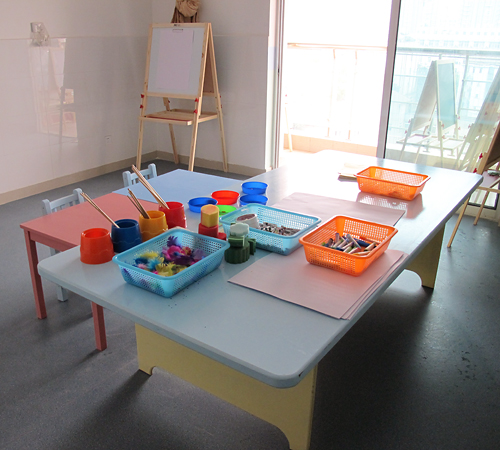 Later that day, I found the burned boy playing alone with an imitation Connect Four game, lining up the red and green checkers in perfect alternating rows. I moved closer and he didn't mind me raising my camera towards him. He was so preoccupied with his game he didn't seem to notice me sitting only 1 foot away. I was hoping to somehow take a pleasing photograph of him, but there was no angle, perspective or composition I could find that could capture the child beyond his scars and eventually I lowered the camera without taking any photograph.
As he played, however, his eyes were alive and he had a look of effortless glee in his youthful, but permanently deformed smile. It was at that moment I realized that perhaps he might not just be" the burned boy," but simply a boy who, from time to time, just as every child deserves, may know comfort, security and happiness.
-Daniel
https://au.onesky.org/wp-content/uploads/2019/03/1104_yscomputer-thumb.jpg
281
500
Winnie Sun
https://au.onesky.org/wp-content/uploads/2018/07/onesky_logo_AUS-MEDIUM-web300-300x162.png
Winnie Sun
2011-04-15 02:17:37
2019-03-14 02:17:51
Day 5 – Spring Build at the Changsha Model Children's Centre